Ajith Kumar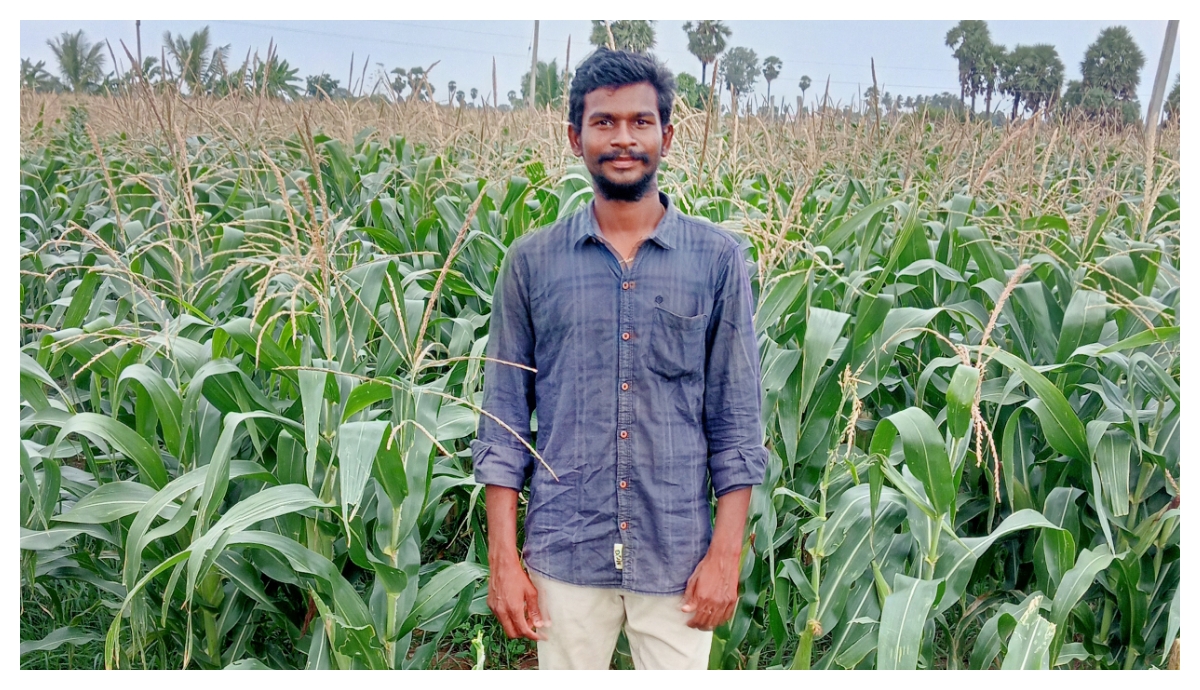 A Fresh Perspective
Queen of cereals
Thanks to its versatility, adaptability to different conditions, and highest genetic yield potential, Maize is known as the queen of cereals. India is the world's fifth largest producer of maize, growing over 22 million tonnes per year during the June - October kharif season and accounting for almost 9% of the country's food basket. Maize is also a vital ingredient to other products including pharmaceuticals, cosmetics, textiles, and paper.
Although only 25 years old, Ajith Kumar already has eight years of experience under his belt in this vital sector.
Serial challenges
Despite achieving a diploma in Electronic and Electrical Engineering, Ajith took up farming when his father passed away. Today he grows maize and sugarcane across 12 acres of farmland. Committed to making a success of farming for himself and his community, Ajith faces a range of challenges from climactic – such as a poor monsoon season, to environmental – such as pests and diseases, and on to economic with labour shortages.
To counter these, Ajith has been working with UPL throughout his career. A longstanding user of key UPL herbicide and pesticide products as well nutritional inputs, Ajith has recently embraced our ProNutiva program. Synergising our conventional and biological inputs, Ajith has seen a 20% increase in yields in just a year on his maize crop. He attributes this particularly to our Amicus herbicide and Gunther pesticide which combats the Fall Armyworm (FAW) pest.
A model farmer
As well as embracing ProNutiva for his own use, Ajith has also been working with us to showcase ProNutiva for other farmers by offering up some of his land as a model demonstration plot for the program. Through land preparation, seed sowing, and growth stages we demonstrated the benefits of a package of inputs, including our popular Zeba soil conditioner, as well as offering training to farmers on how to most effectively apply them. Over the course of a year, this demonstration plot showed a 33% increase in yields, winning over Ajith's fellow farmers who will now adopt ProNutiva themselves.
The way to the top
Looking to the future, Ajith has set his sights on the top: "I want to be in the no. 1 position in sustainable agriculture and growing using modern technology," he tells us. At UPL, we'll stand with Ajith every step of the way – just as our inputs do with his crops.