Challuri Rambabu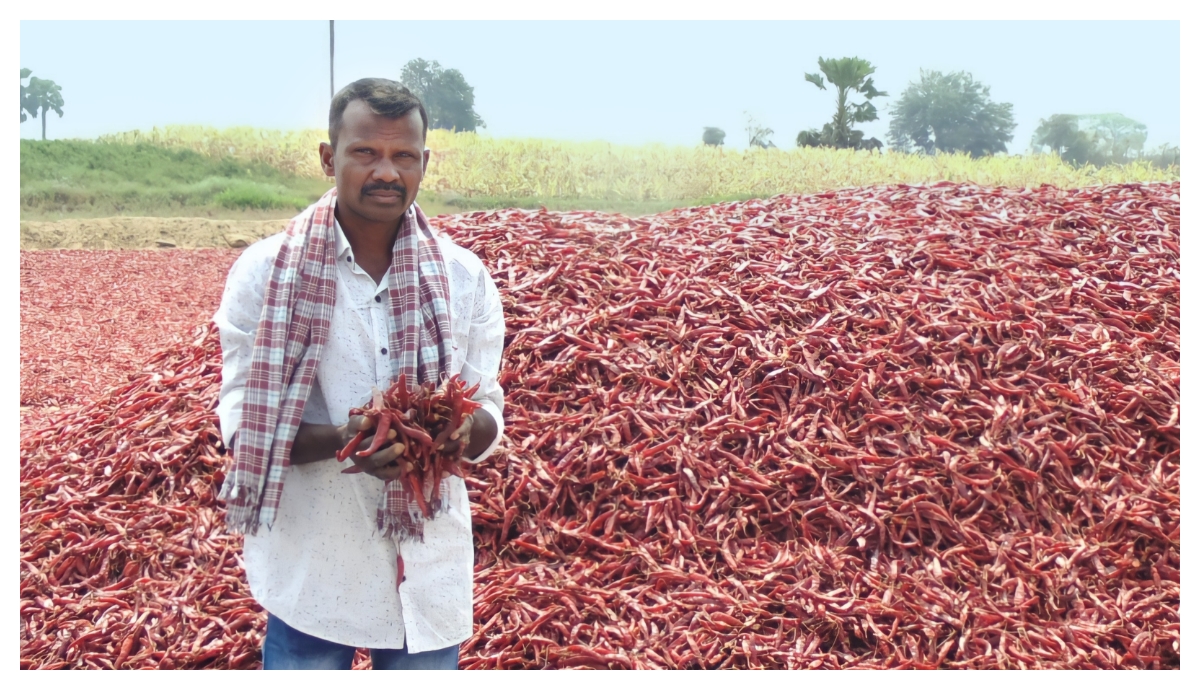 Dried Heat
An international crop
Chilis grow so well in India that botanists once believed them to be native. In fact, they originated in central America and were popular in Meso-American food. The Spanish first brought them across the Atlantic before 16th century Portuguese colonists brought them to India. Today, chilis are almost synonymous with Indian cuisine and a key part of the country's US$3 billion in annual spice exports.
Despite Indian chilis' global popularity, around 80% of India's growers are smallholders. In the village of Upedu Veerapuram, which stands between the forests of the Deccan Plateau and the Godavari river, 38-year old Challuri Rambabu, his wife Mrs. Neelama and their son Lalu are one such chili farming family.
A village feeding the world
Challuri's father first started farming their three acres of land in 1997. From these humble beginnings, the family now supply dried chilis to AVT McCormick, a global exporter of sustainably sourced spices and one of the largest in India. Challuri's embrace of modern farming techniques, such as his Integrated Pest Management (IPM), have been vital to this success.
Indian chili farmers face pests including Borer and Tobacco caterpillars, Spider and Yellow mites, and aphids – as well as fungi and disease. IPM uses a deep understanding of pests' lifecycles and interactions with the wider environment to guide commonsense practices and identify pest-targeting inputs that do minimal damage to wider ecosystems.
More than just inputs
Challuri's inputs come through UPL's ProNutiva package, which combines conventional and biological inputs to both targets pests and improve crop and soil health. As a result, in the two years Challuri has been working with UPL, he has seen a 20% increase in yields.
And it's not just these inputs, which include pesticides, fungicides, plant root-growth stimulators, and our ground-breaking soil-fixer Zeba, Challuri also values regular contact with UPL. This on-theground support included developing his ProNutiva package and guiding its application. For us, that's our commitment to smallholders like Challuri who are feeding and protecting the planet.
Continuing legacies
Looking over the farm that his father began 25 years ago, Challuri is now part of a global chili trade that began over 400 years ago. With a commitment to exploring more biosolution use, Challuri is sustainably continuing two legacies. He's proud to be a part of the global food chain and we're to work with him.