Kanagaraj Muthusamy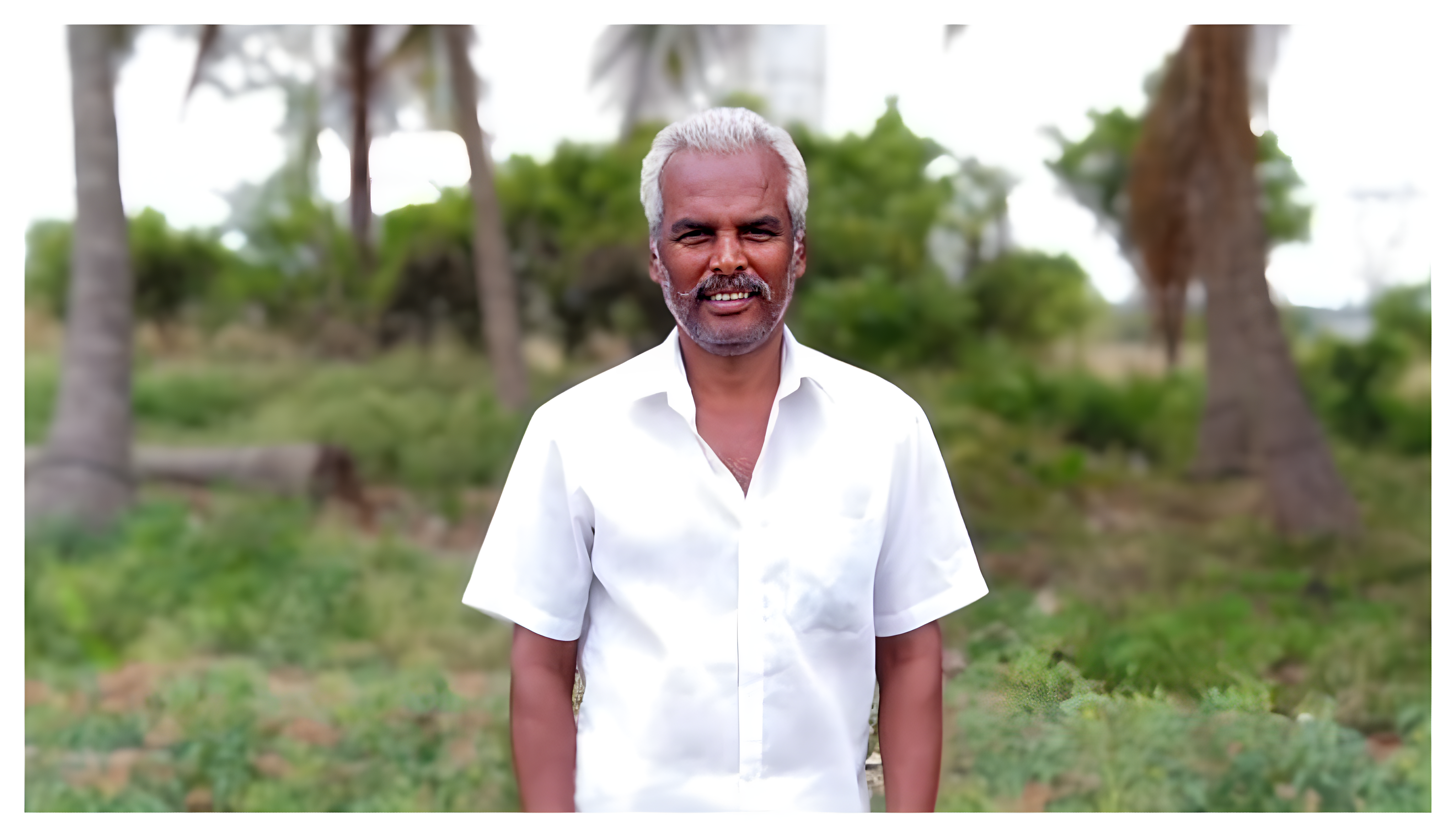 Kernels of Knowledge
A handy starch
Corn is one of the world's most important crops. We don't just snack on it at the cinema and munch it on the cob at every barbecue; corn is a cornerstone crop for human nutrition, responsible for 6% of calories consumed worldwide. It's turned into flour and syrup, fed to livestock, transformed into ethanol for biofuel and can even be used to make plastic.
The story of this handy starch begins thousands of years ago in Mexico and continues today on every continent except Antarctica. Kanagaraj Muthusamy is one of many Indian farmers growing the crop which contributes 9% to the national food basket.
Weathering the change
Kanagaraj started farming 35 years ago when he was 18 years old on his family farm which he eventually took over. For most of his life, he has had his feet firmly planted in the field while his mind focused on the shifting trends in farm and environmental management. Determined to weather the changes, he's incorporating sustainable practices and technological innovation to counteract "poor monsoon and rainfall and sudden outbreaks of new pests and diseases" while also boosting yields.
Rooted in science
For the last 10 years, Kanagaraj has been using UPL inputs to ensure the health of his crops. Helping him contend with low rainfall, Zeba, UPL's climate-smart water consumption management input, is improving yields and reducing water and nutrient leaching, while Copio, our soil biostimulant, improves micronutrient availability and supplies organic carbon to the soil.
"When preparing the land, I applied Zeba and Copio. The plant growth was very good and had longer roots compared to the control plot," he says. "My maize crop remained green during a dry spell while fellow farmers experienced severe drought stress."
To combat the spread of Fall Armyworm (FAW) threatening maize farmers in India, he's also using Sorter and Gunther, which have offered "better results compared to other products" as well as cost-effectiveness.
A hero to heroes
Last year, Kanagaraj adopted our ProNutiva package offering a bespoke combination of conventional and biosolution inputs to meet the challenges before him efficiently, effectively and sustainably. "My yield improved by 10%. Normally I yield 29 Quintal/ac of maize, but after adopting ProNutiva, my yield went up to 32 Quintal/ac," he says. "My plan is to continue advancing my farm towards sustainability and to help the farming community achieve the same."