Yarravula Komaaraiah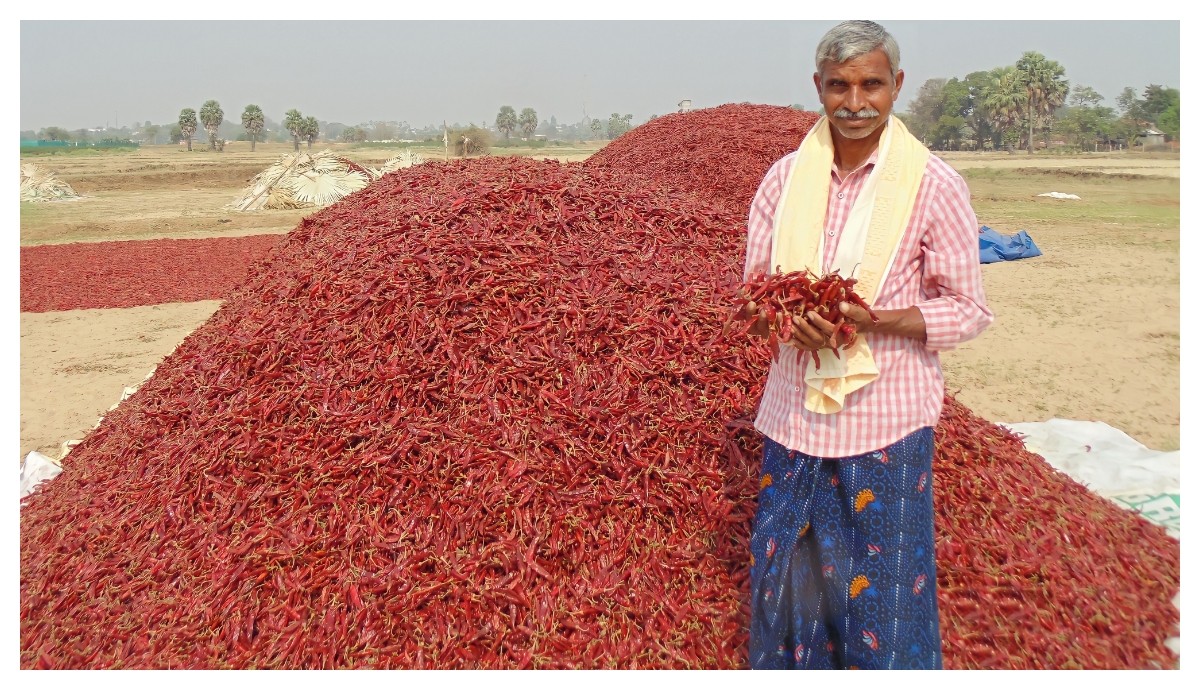 Hot Commodities
Hot fruit from a hot land
The Deccan Plateau runs up the centre of southern and central India, the Western Ghat mountains blocking moisture and leaving the region hot and arid outside of the monsoon season. However, the region is sustained by large rivers including the Godavari, Krishna, and Kaveri flowing down to the Bay of Bengal.
In Telangana state on the banks of the Godavari, stands Venkatapuram– a small town looking across currents, sandbanks, and waterfalls. Here, and in other towns and villages like it, the river enables agriculture to flourish. Although Telangana is best known for its rice, maize, tobacco, mango, cotton and sugar cane, thanks to farmers like Yarravula Komaaraiah, chilis too are growing into hot commodities.
Chili challenges
Yarravula began farming over 30 years ago when is father bought five acres of land. Today, these five acres sustain Yarravula, his wife Vijaykumari, and their son Bala Mahendar. After all these years, farming is still Yarravula's passion. But, like many Indian chili farmers, he has recently faced challenges from pests and low market prices.
UPL's ProNutiva package has therefore been an important part of Yarravula meeting these challenges, with his chili yields increasing by 200kg. And for our part, we've been honoured to work with Yarravula on a chili field day demonstration in one of his fields for other local farmers.
A comprehensive package
Yarravula's bespoke ProNutiva package, developed with his UPL representative, counters Indian chilis' growing pest problem with UPL's Ulala wide-spectrum control against sucking pests and Gunther insecticide, which targets Fruit Borer and Tobacco caterpillars. At the same time, Avancer Glow protects against anthracnose, leaf spot, and powdery mildew fungal infections while Cuprofix counters downy mildew and late blight disease.
Meanwhile, Brique enhances crop uptake of Calcium and Boron; Pilatus stimulates root system growth; and Zeba improves soil's water retention, enabling more yields from less water.
Restoring balance to the land
For Yarravula and others, ProNutiva has brought a welcome balance of conventional inputs and biosolutions. Yarravula is keenly aware how the excessive use of Phosphatic fertilizers in the lands around them has depleted soils and decreased yields, and he now wants to see greater balance with biological inputs. For all of us at UPL, seeing our inputs deliver real benefits to farmers like Yarravula is an important reminder of why we do what we do.